Let's explore a little: some of the different types of orgasms you could be having
---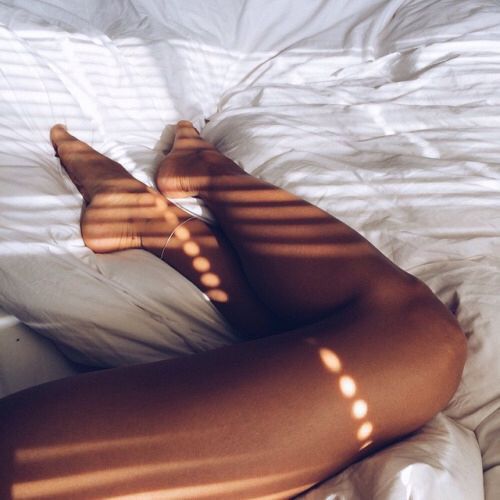 Wyld created Skinny Dipping with pleasure in mind. We know the benefits of play are endless: reduced stress, increased self-esteem... But why not explore a little further? When it comes to your body, who's going to know it better than you? Whether you're looking forward to an afternoon of indulgent solo play, or you're pairing up with a partner (or two), let's get to exploring all the different orgasms your body can experience. We promise, most of the fun is in the trying.
Clitoral: The clitoris may be small, but oh, the power it holds. The small organ has over 15,000 nerve endings. That's more nerve endings than an ENTIRE penis, and so many nerve endings that your clitoris comes with a little protective hood (the clitorial hood) to keep it from getting overstimulated on the daily. When you feel like playing, you can place your fingers at the top of your inner lips and gently pull up. Because the clitoral hood is attached to your inner lips, the hood will retract, and there you have it: easy access! We suggest adding some lube (read: our Sex Gel) to your clitoris to make the stimulation much more sensual. 
Vaginal: Vaginal orgasms get a lot of attention! For a while, it was assumed women were most likely to orgasm through vaginal orgasms. Now we know that the vaginal orgasm is very elusive, and that only a small percentage of the population can actually orgasm with vaginal stimulation alone. That doesn't mean it's not worth a try… 😉. We suggest making your play more creative. Try fingers or a sex toy, and instead of depending on an in-and-out motion, play with the entry to your vagina. Try circular motions, but most importantly, lean into whatever feels good and right to you. 
G-Spot: The G-spot is not entirely anatomical, which means your journey to finding it will be just that: YOUR journey. Try relaxing and playing with the opening to your vagina, and when you're ready, slide your fingers or a sex toy in. You'll want to use the "come-hither" motion along the top anterior wall of your vaginal canal. Like we said, this is your journey of self-exploration, but if you want to bring a partner in, positions like Cowgirl give you more control of your pleasure and can make it easier to find your G-Spot with a partner. 
A-Spot: Just about two inches beyond your G-spot is the popular A-spot. Technically, it's the area between your cervix and your bladder, along your top anterior wall - which means, it's DEEP in there. But hitting the A-spot can produce lubrication, and make deep penetration much more pleasurable. So why not get in there and see what all the fuss is about? 
Anal: You might love anal. You might not care for it. Or maybe, you're curious? Whatever camp you fall into, you're going to want lube for this one! The anus is NOT self-lubricating, we repeat: NOT SELF-LUBRICATING. The truth is your anus and rectum share a thin stretch of tissue called the perineum, which means they share LOTS of nerve endings with your clitoris and vagina. All these nerve endings coming together can make for a lot of fun. But if you're going to play, play safely - and make sure you're silky and lubricated!
Nipple: Nipple play is always enjoyable, but for some, it's not just foreplay - it's also a mind-blowing orgasm. It's cool to know that sensual play with your nipples or breasts could bring you to the throes of ecstasy, but we suggest not putting too much pressure on yourself. Lie back, relax, and enjoy the feeling of a light touch, or a soft breath… See what happens ❤️
Blended: Blended orgasms are exactly what they sound like: simultaneously-occurring orgasms. They can be more intense and all-encompassing, because so much is happening at once. There's no exact way to achieve a blended orgasm, but the more you explore your own body and find out what feels good and what makes YOU come, the closer you are to achieving a blended orgasm. And like we've said, if at first you don't succeed - try, try again…
The perfect accompaniment to any sex play is the sex gel made with you in mind! Oh, and we added Damiana, an ancient aphrodisiac, to take desire and pleasure to the next level. Learn more and shop here.