Wyld's 2022 Holiday Gift Guide
---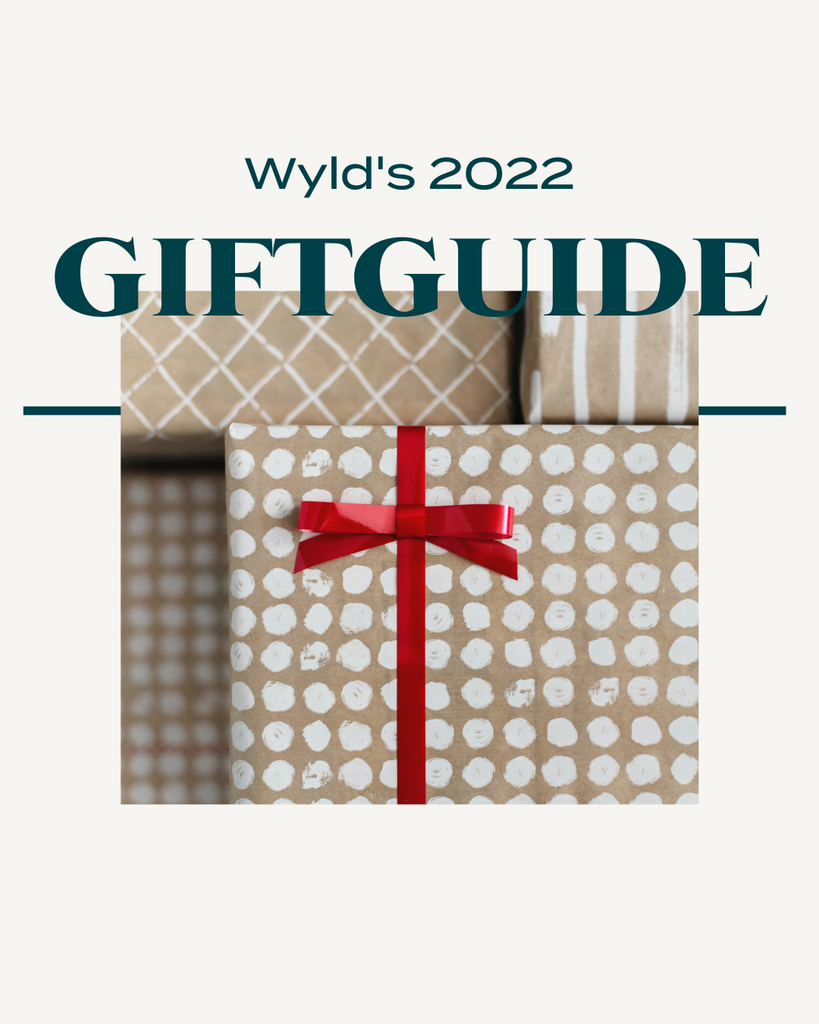 This holiday season, we encourage you to support small businesses when doing your holiday shopping.  In a season that's filled with abundance, gratitude, and giving, this time impacts small businesses in a big way.
To help you get started, we've created a collection of brands who we love and are inspired by. All of these brands are small businesses who share aligned values around sustainability and conscious consuming.
We hope this Inspires you to purchase and support these businesses not just this holiday season, but year round.
Elate Beauty is a refillable cosmetics brand that puts people and the planet before profit. Vegan, Cruelty-Free, and B CORP certified, Elate is dedicated to creating high-performing products with ethical ingredients, sustainable packaging, and responsible marketing.
Recommended Gift: Creme Eye Colour
A long-wearing creme to powder eyeshadow that doesn't budge throughout the day. Weightless, blendable, effortless. Say goodbye to creasing and hello to high-performance colour. Blend for a soft finish or build it up for a bold look that stays put.
Everly is on a mission to clean up the candle industry. Everly's innovative candle refill system encourages customers to refill any empty candle vessel at home in under two minutes, diverting millions of vessels from landfills.
Healthy ingredients, non-toxic oils, and compostable packaging. 1% for the planet. LATINX Owned + Operated.
Recommended Gift: The Santo Starter Bundle
Santo combines the refreshing, woodsy scent of palo santo with earthy aromas of sage to bring you the perfect scent for rainy days spent inside reading. Designed to be used time after time, our Eternal Vessel is handmade in Toronto— its clean aesthetic is made to last and fit well in any home. 
Bundle Includes: This clean candle bundle includes everything you need to make your candle at home: a handmade ceramic Everly vessel, pre-mixed scented wax, lead-free cotton wick with adhesive, and a wick holder.
GOODONYA is a nature-inspired, organic food and beverage brand, based in Encinitas, California. Our restaurant is Organic and 100% Non GMO. We also create organic products so you can have GOODONYA with you wherever you go.
Recommended Gift: Hydrate Electrolyte Powder Mix
HYDRATE is one of few Certified Organic electrolyte powders in existence - the perfect stocking stuffer, or gift for yourself during the hectic holidays. Our real food ingredients taste amazing, like light, fresh lemonade. It's made with only 1g of sugar and without any so called "natural" flavors, our organic juice combined with some of the best minerals on earth is magic.
Nixit is a Toronto-based period care brand available globally. Its hero product is a revolutionary, suction-free disc-style menstrual cup made in Canada. Its aim is to nix period product waste — over 4.9 million pounds have been diverted from landfills thus far — and the stigma historically associated with menstruation.
Recommended Gift: The Nixit Menstrual Cup
Nixit's disc-style menstrual cup is made from ultra soft silicone with a unique one-size-fits-all shape. No confusing sizes, no awkward folds. A simple period cup design that conforms to you, making it the perfect, personal gift.
Based in Vancouver, B.C., founder Janet's parents moved to Canada over 50 years ago from East Asia. Janet leverages her Eastern and Western roots to influencer her line of natural skincare products.
All RINSEco products are made with natural ingredients that retain the regenerative and healing powers found in carefully selected fruit and plants botanical extracts, sourced from North America & Europe, and are made in Vancouver, B.C., Canada.
We Recommend: Sweet Red Rose Powder Facial Cleanser
Breathe in the serenity of a lush rose garden as you lather the facial cleanser powder with warm water. Gently let the wash cleanse and invigorate your sensitive skin as moisturizing milk proteins sink deep beneath the surface. The rose extract helps to balance oil levels and protect against further damage for a healthy, revitalized look.
A modern, woman-owned, artisanal perfumery based in New Orleans that is committed to producing high-quality products using ethically sourced, all-natural ingredients and sustainable packaging.
We Recommend: Deluxe Perfume Sample Kit
This is the best introduction to the Smoke Perfume collection, as well as the best value approach to "try before you buy!" Sample our entire line of 100% natural perfumes and body oils with our Deluxe Perfume Sample Kit! Each kit includes scent note descriptions, and a discount code to apply to a full-size purchase. It's the perfect gift for any perfume-lovers on your list.
Thoughtfully created products and convey a lifestyle that encourages you to consciously slow down, be present in the moment and enjoy the simple pleasures of life. We aim to inspire you to connect with Mother Nature and the people around you, based in Tofino, BC.
Our custom designed Rowyn throw is made from super soft luxe Turkish cotton, eyelash fringe, and cozy fleece lining. Created to look like ripples on the ocean this neutral design brings tranquility to any space
Of course... we had to include ourselves! Wyld is a brand focused on plant-based alternatives and clean, minimal skincare. Our mission is to provide products that are good for you + the planet.
The perfect Wyld Gift: Face Love Essentials Bundle.
Our Face Love essentials bundle gives you the simplest way to achieve beautiful skin and step up your daily skincare ritual. This bundle includes Wyld's Seas the Day Creamy Gel Cleanser, the French Pink Clay or Charcoal Konjac Facial sponges, and our Moon Dew Hydrating Serum.
Wyld's Face Love Essentials Bundle hydrates, cleanses and rejuvenates your skin, giving it the love it deserves.