Lube 101: Let's talk about it
---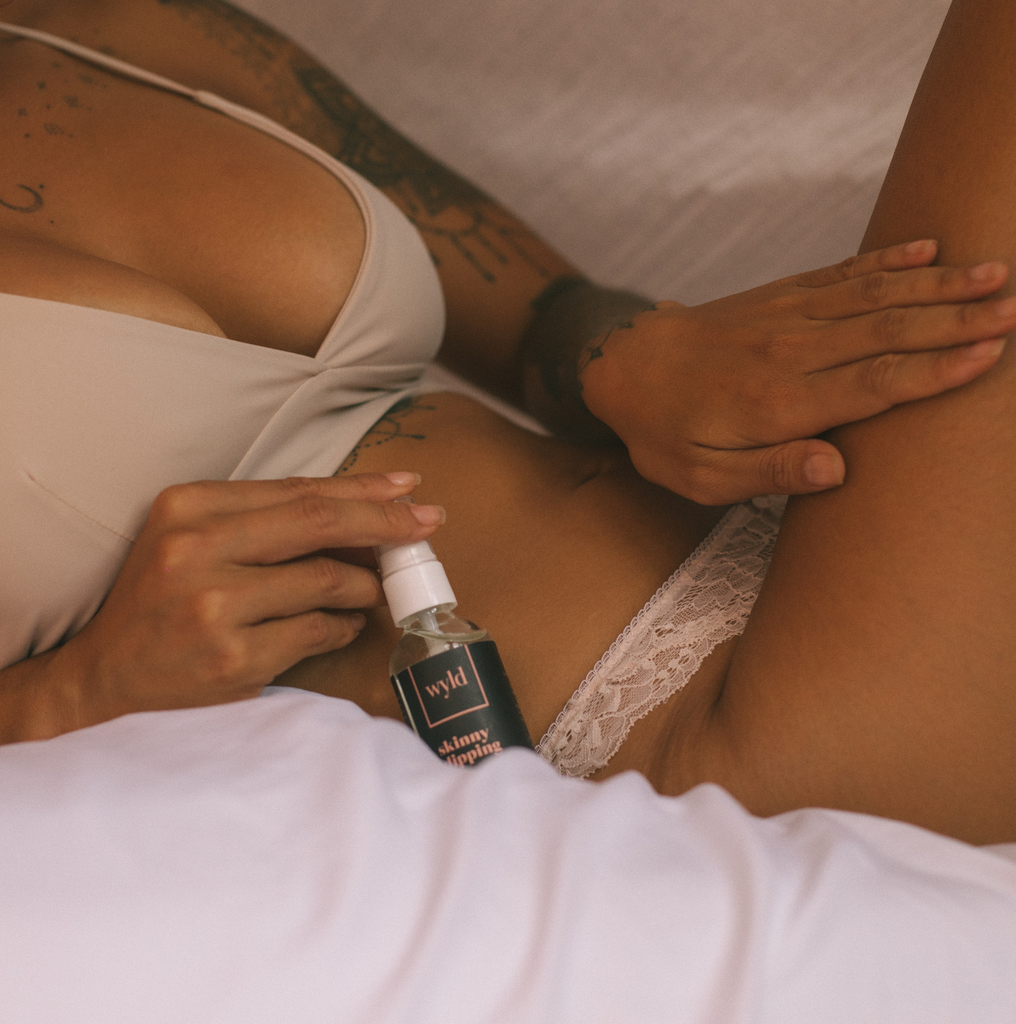 Celebrating Your Sexuality
Lube 101: Let's talk about it.
By Jennifer Deneen
The naked human body is a wild and beautiful thing. At Wyld, we believe embracing your sexuality is a vital part of your journey to self-love. As we expand upon the conversations we have surrounding sex, let's celebrate the ultimate sex health essential that is often left out of these discussions: lube.  
Yeah, we said it. Lubricant can help with exploration and encourages us to embrace our bodies. John Mayer was right. Your body is a wonderland. Your sexuality is a unique part of yourself that is beautiful to explore. Let's learn more about lube so we can use it to our advantage and discover our sexuality and the inner Goddess in all of us. So light a candle, cozy up, and keep reading to learn about the astronomical power of lubricant. 
Stripping Down the Benefits of Lube
Lube can maximize your pleasure
You can use lube to create different sensations that can revolutionize the sexual experience. A study from Indiana University's Center for Sexual Health determined that lube makes it 50% easier—for both men and women—to orgasm. 
Smooooother Sex
Our bodies eb and flow. Lube can help us enjoy for longer, keep motion smooth. Reach for your lube to give you that extra slip and keep things pleasurable allll night long. 
Keep it Spicy
Lube can be an extra source of inspiration in the bedroom, whether by yourself or with your partner. Lube is great for both her and him. Try lube the next time you are in the mood for a massage. 
Finding the right lube for you
Having a positive experience with lube starts with finding a high-quality lube that works with your body. While this is easier said than done, here are a few tips: 
Keep it Water-Based:

We recommend using a water-based lubricant. This takes the natural, mess-free approach. 

Avoid the nasty ingredients:

Try out a lube that is alcohol-free and free of petrochemicals. This ensures that you are keeping toxic ingredients away from your body embracing organic ingredients that celebrate your sexuality. 

Find your p(H)erfect match:

Search for a lubricant that doesn't irritate the vaginal tissues or negatively impact the healthy bacteria. Ensure this by choosing a lube that matches the pH levels of your sensitive bits

. A paraben-free, fragrance-free, water-based lubricant is a safe bet of matching your pH levels and preventing odor-causing bacteria. 
Wyld's Skinny Dipping Sex Gel is a luxurious, water-based lubricant formulated without any nasty ingredients. Made for all skin and body types, Wyld's sex gel is will elevate your sex life without affecting your body's natural chemistry. 
We also upped the pleasure levels by adding the herb Damiana, an aphrodisiac used in traditional medicine. 
The Bottom Line 
When it comes to sexual wellness, celebrate lube. Lubricant optimizes your pleasure and maximizes your comfort.  So get naked and unleash the Wyld within you. 
 Click Here to Shop Skinny Dipping
[1] "Trojan™ Lubricants Invites Couples to Come Together for the World's Largest Simultaneous Orgasm," PR Newswire, October 2, 2013, [Page #], accessed October 10, 2021, https://www.prnewswire.com/news-releases/trojan-lubricants-invites-couples-to-come-together-for-the-worlds-largest-simultaneous-orgasm-226116761.html. 
[2] "Why does pH and lubricant use matter to you?," Ah! Yes, September 2012, accessed October 10, 2021, https://www.ahyes.org/blog/why-does-ph-and-lubricant-use-matter-to-you/.