The Christmas Gift Guide for Conscious Shoppers – Under $30
---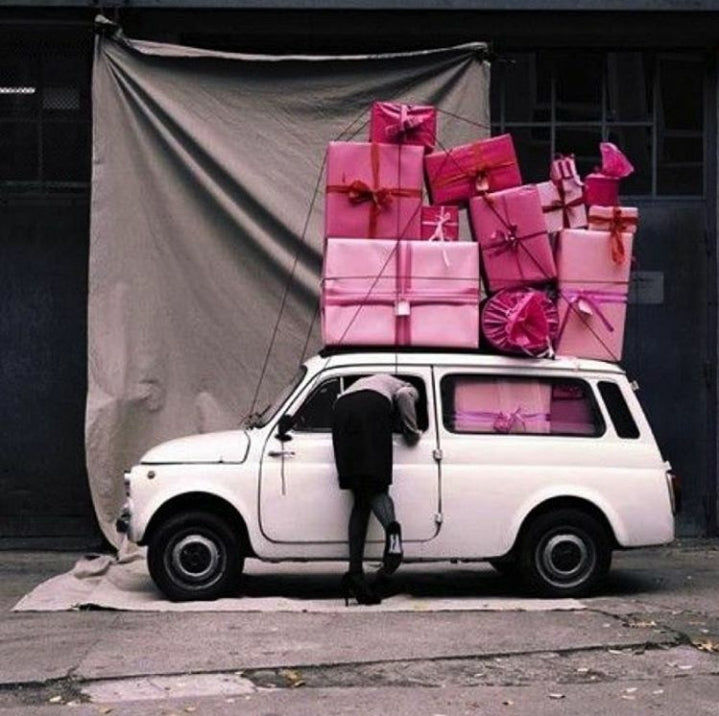 Do you hear that? The distant sounds of sleigh bells ringing, and that only means one thing - it's time to get out your naughty and nice list, and start slaying that shopping list. Lucky for you, we've rounded up the ultimate gift guide for the discerning conscious shopper. The holiday season is all about giving, and if you're to part with your dollar, we want to help you feel good (read: guilt-free) about where it's going.
How did we choose? Well we've picked only brands that we love, with philosophies that are aligned with ours – those who are consciously giving a sh*t about our planet, health and other human and animal friends – and making that part of their entire brand ethos. Not only that, we've picked out everything that tick our boxes in terms of being unique, eco-friendly, well-made, ethical, vegan, and cruelty-free.
These gifts will be sure to wow without breaking the bank, and won't end up at the back of someone's closet and never be seen again - AKA the Xmas gifts graveyard. So here you go, the holiday gift list that keeps on giving.
Captain Blankenship - From $28 (International shipping)
This small women-run company based in the Hudson River Valley focuses on making products from organic and wild-harvested ingredients that are domestically grown when possible. There are never synthetic preservatives, parabens, sulfates or "fragrance" in their products and they use recyclable and reusable glass packaging. We particularly love their limited edition Mermaid Magic Sea Salt Shimmer Spray gift set for only $28. Steal.
Joco Cups, from $25.95 (International shipping)
With 58 billion paper cups (not including sleeves and plastic lids) thrown away every year and not recycled, Mother Nature is royally pissed off, and we don't blame her. Joco Cups are lightweight, stylish and comes in a variety of gorgeous pastel colors that we have trouble choosing just one, so we'll just get the whole lot thanks. If that doesn't convince you, coffee lovers out there can agree with us that coffee (and tea), tastes a helluva lot better in a glass than a styrofoam/plastic/paper cup.
Bare Skin Bar, from $24.00 (ships to Canada)
Handmade in small batches in British Columbia, Canada, these bath bars are beautiful and smells heavenly. Drop one in the bath and watch it sizzle; breathe in the delicious scent that transports you to your happy place. Then soak (any)body in the highest quality, ethically sourced skin-loving ingredients. Free gift with purchase for the month of December. The perfect gift especially if you get invited along for the soak. Bonus: A portion of proceeds go towards Sea Legacy. 
Unwrapped Life, from $7.50 (International shipping)
Friends don't let their friends use products with SLS. Unlike most conventional shampoos, which often contain SLS and synthetic colors, Unwrapped Life creates their shampoo and body bar soaps with only naturally derived ingredients. Here, the wild crafted bars use only natural colorants such as turmeric and calendula, or green tea. Everything at Unwrapped Life are created beautifully with minimal waste in mind.
Evelyn Iona - From $20 (International shipping)
We love this bunny loving, cruelty-free "Conscious AF" cosmetic brand that shows us that vegan and natural in beauty is not only for hippies but for all sexy thangs. The brand celebrates female empowerment donating a dollar from every product to the YWCA.
BKR Water bottle – From $28 (International shipping)
These are must-haves for keeping hydrated while breaking a sweat. The multi-hued pastels of BKR water bottles with spikes gives it that feminine edge. Our favorite is the spiked tutu. Proceeds of sales go to a variety of causes including water conservation and cancer research  All around do-gooders. 
Early Bird & Worm – From $20 (International shipping)
Too cool for school onesies for the little ones in your life and a wide range of fashionable threads and accessories for mini munchkins. You'll find ethically produced organic materials and GOTS certified, which means clothes that made with environmentally and socially responsible manufacturing. We especially love their long sleeve onesies and the kidult in us are going nuts over these super cute accessories. 
Kotn, from $28 (North America Shipping)
Luxuriate in these ethically sourced and produced Egyptian Cotton clothing for him and her. The idea behind this brand is farm to table - but for clothes, and nothing too fancy here. They're all about simple, everyday basics, that feels super soft on the skin, yet are also made accessible so you don't have to be Cleopatra level royalty to afford these luxurious threads. They also build schools in the rural farming regions where they source their cotton. We love these basic tanks that we can wear with pretty much everything. 
Terralite Candles – From $25 (International shipping)
"I have too many candles" says no one ever. One can never have enough candles. With so many brands out there, choosing one over the other can be confusing. When you're buying candles, avoid synthetic fragrance and candles with parafin that produces fumes that could be harmful for your health. For a clean, healthy burn, go for these vegan Terralite Candles that are made of coconut wax, organic essential oils with a hemp wick. Burns for 52 hours so you have optimal time for hygge.
Coconut Bowls - From $12.95 (International shipping)
Besides being Instagram-worthy, these Coconut bowls are handmade from the reclaimed coconut shells and up-cycled. Instead of being discarded, every part of the coconut is used to minimize waste. Every coconut bowl is unique, with its own shape, size, marking and imperfections. They're one in a billion and they're perfect for smoothie bowls, salads and desserts. 
Salt & Glow - From $5.65 (International shipping)
This Aussie skincare brand makes these all-natural, skin-licious looking products that we want to slather all over ourselves. Bonus: They donate 100% of profits from the So Loved range to charity. Yes! 100%! 
Wyld Skincare – From $13.50 (International shipping)
Beautifully packaged skincare that works, and is vegan, biodegradable, sustainable, all-natural, minus synthetic chemicals, fragrances, preservatives and all-around free of any nasties? Our zero-waste unique konjac sponges infused in bamboo charcoal and French Pink Clay will make the perfect gift set or stocking stuffers for any babes on your list.
There you have it Wyld things. Go forth and shop the links now to get your goodies arriving before Xmas!