If we are cocooning, let's emerge a butterfly
---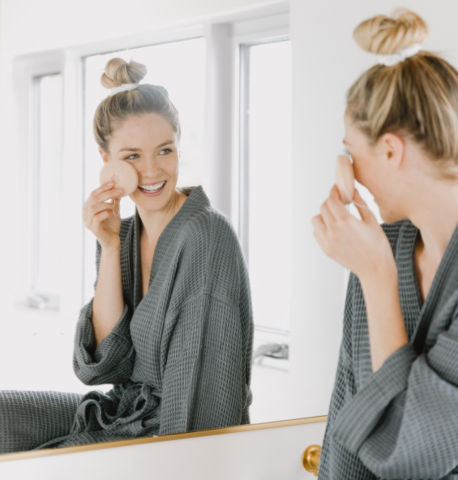 We hope everyone is feeling calm, healthy and cocooning safely from home. 
We know everything feels uncertain right now and we don't quite know what the future holds. But what we do know is that we can still care for and give love to ourselves and others during these challenging times. 
With more time at home, we've had to learn new ways to care for ourselves, and this includes skincare. It's easy to let ourselves go when we don't even know what day it is. Keeping a daily routine and healthy self-care habits are more important than ever. 
During this time, we want to give a few of our favourite quarantine, work-from-home skincare tips. Not sure about you, but if we are cocooning we damn well better emerge a butterfly!
1. Keeping a skincare routine
It's easy to stay in our PJs all day, we know it feels so comfortable and cozy, but having a routine is key, and that means changing out of your PJs, and a new stay-at-home skincare routine. 
Let's keep to the simple basics; washing our face in the morning, followed by a moisturizer is key. Our pillows contain dirt and bacteria, (from the oils on our scalp, skin and hair) drool, and dead skin (among other concoctions) that get transferred to your skin as you sleep. 
Giving your skin a good wash will give you clean skin that can absorb moisturizers so your skin doesn't dry out throughout the day. 
We know that using Seas the Day cleanser really kick-starts our day and the scent is uplifting and happy. 
2. Multi-masking
We love multi-masking aka masking while working/doing house chores. We love putting on a mask first thing in the morning, after a good exfoliation (bye dead skin) and cleanse with a Wyld sponge paired with our Seas the Day cleanser. 
When we sleep our skin loses tons of precious moisture, especially if the air is dry. We replenish it right away when we wake up with a large glass of lukewarm water (add a few drops of apple cider vinegar and a slice of lemon for extra cleansing detox) and a hydrating cucumber mask. All this before we check our phones (self-care first)!
3. Ditch the makeup (for now)
As we take the time to breathe and calm our nerves, it's time to also give our skin time to breathe. Try to have days with no makeup, or light makeup if you feel it is a must. Your skin will seriously thank you for it as you replace wearing makeup all day with skincare all day. We've found that our skin looks healthier, more luminous and our pores seem to be much smaller since we stopped wearing makeup everyday. We can't recommend it enough.
4. Don't touch your face…
The only time we should be touching our face is when we're doing skincare. Let's refrain from touching, picking, and scratching our face. It's a bad habit in general and most of the time we do it out of nervousness or anxiety.
It's not only better for our face if we stop touching it with our grubby hands, but it's also a good habit to start building at home for when we do emerge back into the real world.
5. Wash your hands before washing your face
In taking extra precaution, we would recommend washing our hands thoroughly with soap for at least 20 seconds (or sing happy birthday twice) before washing our face. This is especially important if we have just been outside. 
It's a good practice to start now as we adjust to a new normal, in remembering the face washing process starts first - with clean hands. 
Please share the love by sharing these tips with your loves. Let us know if you have any skincare tips to share with us, we love hearing from you. Stay healthy, keep positive and remember to self-care.