Magnesium: Three Reasons Your Skin is Begging for It
---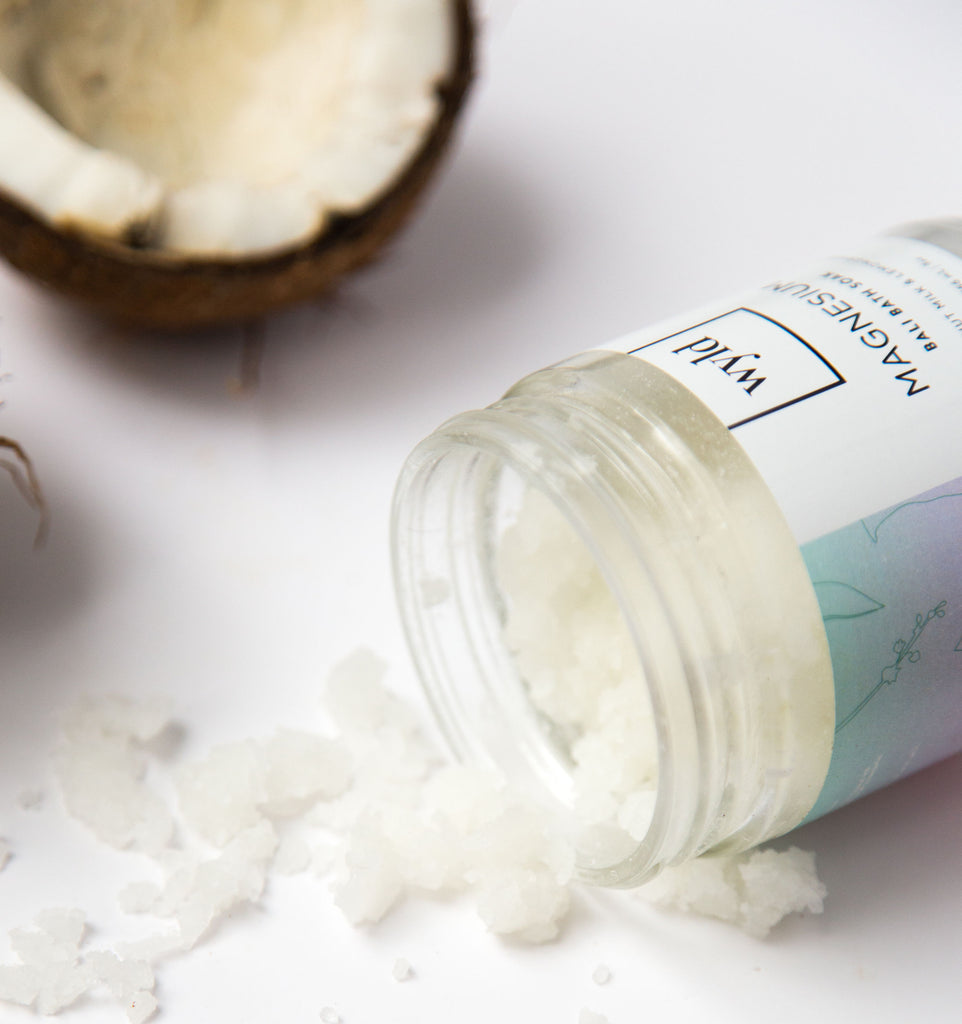 Warning: we are not responsible for the procrastination that could occur from this article. It may result in the form of a candlelit bath with overwhelming relaxation and soft, supple skin. Please read at your own risk!
Magnesium Chloride is gaining popularity in every beauties' self-care repertoire and rightfully so! Magnesium handles over 300 biochemical reactions in our body, making it an essential mineral for everything from blood pressure regulation, cell membrane stabilization to the synthesis of protein, lipids, and nucleic acids.
Long story short, your beautiful cells love magnesium, especially your skin cells!
Remember beauties, your skin is your armor. It's the largest organ in the body and also the barrier from external factors such as UV radiation, germs, toxins, and pollen. 
This is why we created a bath soak with magnesium to give your skin some much-needed love. To hydrate, to physically and mentally chill out, and for the ultimate glow-up, your skin has been ready for.
Let's talk Hydration
Much like the rest of your body, your skin loves water — cue bath water!
Bath water running? Time to add the secret hydration weapon. Magnesium binds to water and hydrates by influencing cell proliferation with the intent to repair and restore. 
Whether you have rough, inflamed skin to dull dehydrated skin, magnesium has you covered. If you struggle with eczema and dermatitis you may find relief and the extra hydration supportive to your skin. 
As you sink to softer skin, you allow a daily dose of magnesium to be absorbed. Careful though! You may come out of the bath as slippery as a baby seal, but also magnesium in the body creating an ultra-relaxed mood.
Relaxation Mode: On
Ready for some serious Zs after your soak? What magnesium is most known for is its full-on relaxation abilities — mental and physical.
Mentally, a warm bath is calming by its seductive ambiance, but adding magnesium to the mix can help reduce your stress hormones.
By promoting happy hormones, magnesium takes you from 'meh' to 'yaaas queen!' by relieving the stress you have been carrying all day. With those stress hormones stabilized and in check, you're also less likely to break-out.
Physically, magnesium is a go-to for anything related to aches, pains, and sore muscles. One of the best times to relish in a soak is after an intense workout class. You know, the Pilates class where the instructor made you hold a perfect form plank for two minutes straight. Yeah, your soon-to-be sore abs will thank you for the post-workout soak.
Glowing-up
One of magnesium's greatest superpower, if not the best one, is the ability to promote skin cell turnover. Why is this important?
Think of it as if you are a snake shedding your old skin into anew. A rebirth!
Having skin cells turnover means new ones come in leaving room for flourishing skin. Skin cells have their own time frame and this varies by age. The older we get the slower the cell turnover rate but magnesium supports this process leaving you to walk into any room with that outward glow.
Now we are dying to know! Besides our Magnesium Bali Soak Bath, what are your essentials or rituals on soak days? Are you someone who has to have lavender scented candles, a designated bath-time playlist, or silence for meditation? Please share your go-to rituals so we can all make the most of our next soak.
Soaks up beauties! Your skin deserves it!
Contributed by: Katherine Losoya