Magnesium 101: A Beginner's Guide To Soaking It All In
---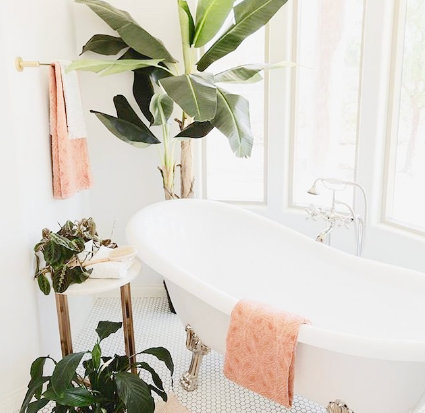 Magnesium has become the wellness world's newest buzzword, with curious consumers and skincare fanatics alike wondering how to incorporate this special nutrient into their beauty arsenals. With a mineral that supports over 300 (!!!) biochemistry functions in the body, it can be difficult to keep track of all the unique benefits and methods that come with maintaining a Magnesium-rich life. For the low-down of all things Magnesium, scroll below and prepare to fill your carts to the brim with this magical mineral. 
What Is Magnesium? 
To put it simply, Magnesium is an essential nutrient for regulating many of the body's processes (muscle function, blood pressure, and bone health, to name a few). For skincare in particular, the mineral promotes an even skin tone and lowers cortisol levels, which is great for those of us whose skin seems to have a meltdown with the changing of the seasons (hello, summer sweat!). 
Choose Your Minerals
You're probably thinking, with so many strains of Magnesium, how can we know which type to actually buy? For skincare in particular, the best strain to ensure smooth, glowy skin is Magnesium Chloride. Epsom salts (remember those?) are actually another form of Magnesium called Magnesium Sulfate. And while these crystals will definitely make you more relaxed and at ease after a long workday, the Magnesium Chloride strain of the mineral is actually way more effective, as it's more easily absorbed by the body. 
Critical For Health, Yet Sparing In Our Diets 
Seems like a magical agent, yes? Well, the shocking truth is that our bodies don't naturally produce Magnesium, which means that our intake must come from digesting it in some way. An easy solution, but it's been calculated that around 80 percent of the population isn't actually getting enough magnesium through diet alone. This Magnesium deficiency is a huge issue, as the macro-mineral is essential for body and brain health— it helps regulate many functions of the body, such as the nervous system and blood sugar levels, and without it, our bodies wouldn't be able to properly function. 
Foods like leafy greens, sesame seeds, tofu, and cashews are all rich in the fabulous mineral, yet our bodies are still absorbing an inadequate amount of Magnesium, even from this greens-and-seeds based diet. What's more, most people don't even know just how deficient they are in Magnesium, as most blood tests won't actually check for Magnesium levels during your routine doctor's visit. Even the significant number of people who do digest Magnesium on a regular basis are quite sensitive to it in supplement form. We'll spare the gory details, so let's just say that the end result is unfavorable for your gut and for your bathroom.  
Scientific jargon aside, the fact of the matter is that Magnesium is a critical mineral for our lives (because come on, who doesn't want an even, smooth skin tone?), but we can't physically seem to get enough of it. The solution? Enter the not-so-new-but-improved Magnesium soak. 
Soak It Up
Before you head off to your local grocery store to stock up on kale and cashews, there is a light at the end of this Magnesium-deficient tunnel. Magnesium soaks have become the newest wellness hack for people to absorb their fill of the nutrient by having it seep into their skin, rather than ingesting it orally with food or daily supplements. 
Athletes have been doing this for years in order to combat sore, overused muscles, and when we see the benefits, it's no secret why. These soaks are great for sore muscles (perfect post-workout), have borderline magical effects for PMS symptoms (soak in Magnesium Chloride a couple days prior to your cycle, and say goodbye to period cramps) and have even more benefits for your skin. Instant soothing properties, cell turnover, and hydration, sign me up. 
Long story short, sliding into a warm bath with the Magnesium Bath Soak (the base is Magnesium Chloride and coconut milk— oh so yummy) will make you look and feel like a million bucks. So, fill up that tub, light a few scented candles, and prepare to instantly forget all about any aches and pains of the day. You'll thank me later. *
By Jamie Schneider
*These statements are not approved by the FDA and are
for informational purposes only.
The content is not intended to be a substitute for professional medical advice, diagnosis, or treatment.  
If you have any specific questions about any medical matter, you should consult your doctor or other professional healthcare provider.