Keep calm and meditate
---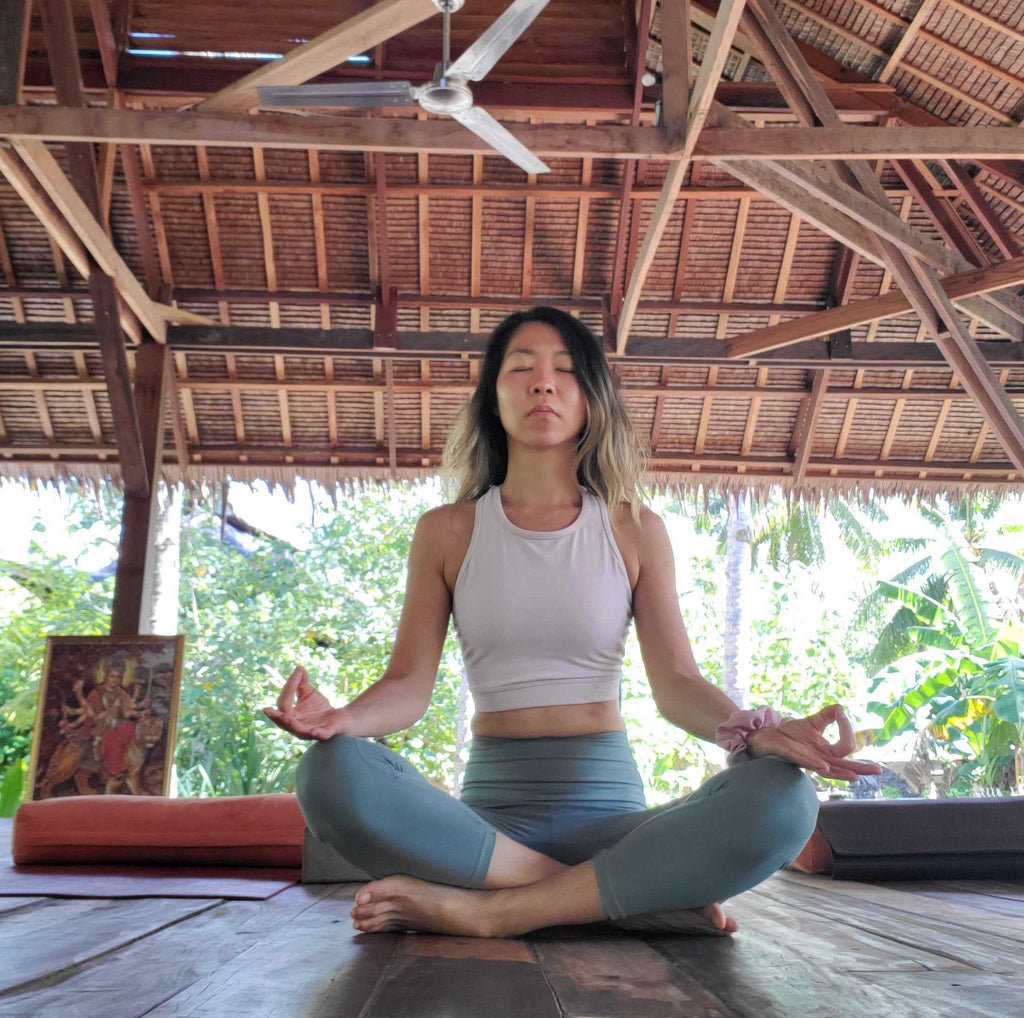 We are living through an unprecedented time in history and feeling uncertain or stressed is completely normal. It's easy to give in to the fear and panic surrounding us. We are hardwired for survival, and when our lives feel threatened we go into fight or flight mode. But with meditation, we can overcome this fear and anxiety and replace it with a sense of calm and peace. Meditation takes practice and dedication but, with time, you'll see immense benefits. 
So let's collectively breathe in that life-giving oxygen. Here are some tips to start your meditation practice now. 
How to meditate - the basics
Meditate on an empty stomach. Take deep breaths. Bring your awareness back into your body by grounding your sit bones if you're sitting cross-legged, or feel the ground against your feet if you're sitting on a chair. Breathe deep into your belly. If you see your mind wandering, that's completely normal - that's your mind doing what it is wired to do, to think. When you notice your mind drift off, gently bring your awareness back to your breath. Imagine yourself waiting at the bus stop. Each thought is like a bus. You can choose to get on the bus and be taken on a ride, or you can choose to let it go by. Observe your thoughts, let them come and go. Simply being an observer to what your mind is doing is in itself the cultivation of mindfulness. 
Meditation posture
If you're just beginning your meditation practice, I recommend sitting upright. Keep your back straight but not rigid. The best meditations are when you are feeling as relaxed and as comfortable as possible, so find a comfortable seated position. If sitting slightly elevated is more comfortable, sit on a cushion or bolster; it helps us meditate longer without getting a leg cramp. I love the beautiful meditation cushions from B Yoga, Half Moon and Samaya. We hold a lot of tension in our bodies without even being aware of it, so relax your shoulders, jaws, thighs and legs as you breathe. Scan your body to see where you may be holding tension and relax every inch of your body as you exhale. 
Make it a daily ritual
To make it a ritual, set up a meditation corner in your home that gives you a feeling of peace and tranquility. Set up a little altar with the things you love - crystals, incense, sea shells, tarot cards, sage, candles, meditation blankets and cushions are just a few ideas but make it your own. This is a little oasis you can turn to whenever you need that time out for yourself. Over time, when we retreat to our meditation space, our minds will naturally switch gears from stress and anxiety, to calm and peace. 
"I can't meditate"!
I hear this a lot. But keep in mind - meditation is a marathon, not a sprint. We were born to think, in fact, we have over 60,000 thoughts per day. Our thoughts are the result of programming based on our past experiences and our upbringing. Most of our thoughts are not useful and rooted in the past. If we allow them to, these negative thoughts can go in loops, taking up space in our minds and dictating our actions (or inactions) on a subconscious level. 
All of the noise distracts us from discovering our life's purpose. So don't give up if you can't stop your mind from thinking during meditation. Keep showing up in your meditation corner day after day, even for just ten minutes a day, and in time you will see a transformation and a life that is more fulfilling and purpose-driven. 
Guided meditation
If you're a meditation newb, a great way to start is using one of the meditation apps like Headspace, Calm or Insight Timer. During times of stress, it's easy to focus on the scary what-if's. On the other hand, doing a guided gratitude meditation on Insight Timer (there are so many options to choose from and they're free) is proven to make people happier and more content. It is a practice that helps us focus on the good things around us and what we already have, rather than negative thoughts and what we don't have. With daily practice, we will start feeling elated over even the smallest things and see everything as a blessing or a lesson, even during challenging times. 
There's no better time to start a meditation practice than now, and I feel the world would be kinder and more peaceful if everyone meditated. 
Happy meditating lovelies! Message/email/DM if you have any questions and let me know how your meditation goes. We love hearing from you!