French Pink Clay or Bamboo Charcoal: Which Wyld Thing is for You?
---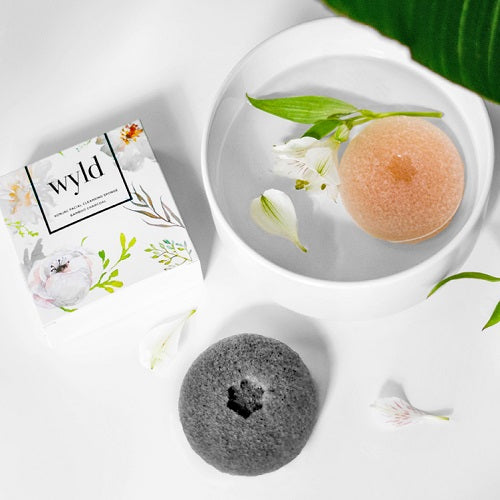 Fun fact: There are 8 trillion beauty products out there, but seriously who's keeping count. Bottom line is, there are a lot, and making the decision on what's good for your skin can be overwhelming even for the most seasoned of beauty pros. When it comes to exfoliating, we got you covered with our two humble simple sponges, that does what it's supposed to - scrub off your dead skin and deliver glow - without any nasty ingredients. Whatever your skin type, either Wyld's Bamboo Charcoal or French Pink Clay will love every nook and cranny of your skin. Below's a quick guide to choose which one is the most suitable for your skin type.

French Pink Clay
French Pink Clay is the gentlest of all the clays in the world, so if you have sensitive or dry skin, our Wyld French Pink Clay sponge is for you. You'll know if your skin is sensitive if your face gets red easily (when you're not running a marathon), or if you have visible broken capillaries or if your skin gets itchy often.
Rosacea, Eczema, Dermatitis, Ichthyosis - whatever your skin type or issue - this sponge will cleanse and nourish while giving your skin a gentle exfoliation.
Our French Pink Clay Sponge exfoliates softly as it treats your skin with minerals of the French Pink Clay. This pink Wyld thing will draw out oils and impurities, cleanse deeply, and make your heart sing.
It's the perfect addition to your morning cleansing ritual because of its gentle nature. Splash some water on your face, scrub with Wyld, and you're clean, smooth, and ready to glow. Cleanser can be used with the sponge for a deeper, foamy clean.
Bamboo Charcoal 
Our Wyld Bamboo Charcoal sponge is like a vacuum that sucks up dirt, toxins, and free radicals from your pores. It is also antibacterial so it cleanses and fights spot-causing bacteria. The Bamboo Charcoal Wyld thing is your perfect choice if you have normal, oily, congested, or blemish prone skin. The Bamboo Charcoal sponge is a little more abrasive than the Wyld French Pink Clay sponge if you're looking for a little more tough loving for your skin.
Bamboo Charcoal is derived from the leftover particles of burned harvested bamboo plants. The bamboo charcoal nanoparticles are baked into the sponges (rather than simply coating the surface of the fibres, making the charcoal active even after many uses). This powerful ingredient has been used in Chinese TCM and as herbal medicine in Asia for centuries and is often call "Black Diamond" for its powerful benefits. 
Use morning or night, with or without your favourite cleanser, they'll be your skin's new indispensable BFF in no time; especially when you feel like a deep-in-the-pore cleanse in the evenings after a day of stress, sweat, makeup built up on your skin. That feeling of taking it all off… bliss.
Still can't decide? Use them both. The French Pink Clay sponges in the morning and the Bamboo Charcoal sponges in the evening. Whatever your ritual, there's a Wyld thing for everyone.
🌸