Five Summertime Essentials You Need Right Now
---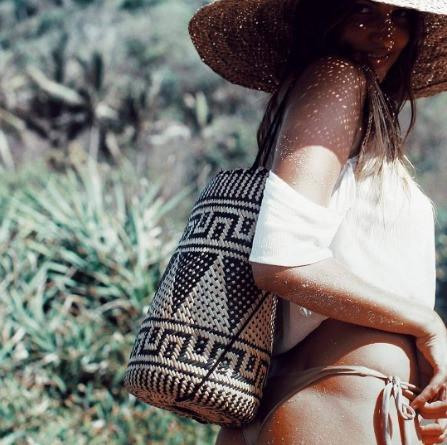 Summer is in full swing and to help get you primped and primed for the magic of the season, we've rounded up this year's essentials from skin, hair to the must-have arm candy that's sure to up your beach cred. Let's check it out!
THE BAG
The bag is arguably the most important summer staple and this cutie is hitting all the marks. Individually crafted in Indonesia, no two Anjat Rattan bags are alike, making these totes an extension of your individuality. Produced by Hartwood House, the rattan used to make these beauties is sustainably harvested as part of a community project, with funds from each purchase going to The Orangutan Project. These lightweight, natural, dual-strapped stunners are crafted with adventure, style and sustainability in mind, hosting all your summer essentials from the beach to the patio.
 THE HAIR MASK
Fearing the frizz? A mixture of heat and wind (cause we know you're going to be rolling with the top down) can leave hair in a state of summertime sadness. Good thing for us, Doe's hair masks can reset your mane in minutes. Our personal fave: the Bora Bora uses all-natural ingredients to restore moisture to your locks, combatting dullness and frizz for the perfect beach hair. Free of parabens, sulphates, silicones, artificial fragrances and colours, we give this our Wyld sign of approval.
THE TAN
We're all about sun safety, which means that favouring sunscreen and shade over direct tanning is an essential part of our summer strategy. But don't get us wrong – we love a good body bronze, and thanks to Bali Body Co, we (and you!) can have both. Boasting a hydrating bronzing lotion that uses all-natural ingredients, including organic caramel extract (mmm), their Bronzing Lotion will give you that summer glow without putting yourself at risk of sun damage. Did we mention it's loaded with Vitamin E and completely vegan? Now that's Wyld.
THE ROUND TOWEL
This multi-purpose towel has us spinning in circles – literally. Affectionately dubbed "Roundies", babes at The Beach People have been turning out circular towels in dreamy patterns, upping people's beach games since 2013. Perfect for a day on the sand, a picnic at the park or even to hang up as a tapestry for summetime parties, a Roundie is one thing you won't catch up without this summer.
THE SKINCARE
Welcome to our wheelhouse! To keep our faces fresh, we'll be putting extra importance on our skin so that our summer glow lasts us until the snow. With the sun beating down hard and humidity at an all-time-high, skin will be begging for a rejuvenating exfoliation, so scrubbing up with an all-natural konjac sponge can help keep the skin breathing and absorbent for maximum hydration. Better yet? Our konjac sponge is soft on sunburns, speeding the healing process up so you're ouch-free. Like Doe's hair masks, our charcoal bamboo sponge is derived from all-natural products, keeping your cleansing regime in tune with the earth.
There you have it Wyld things! Go forth and bask in the Summer rays while it lasts.