Dehydrated vs. Dry Skin - do you know the difference?
---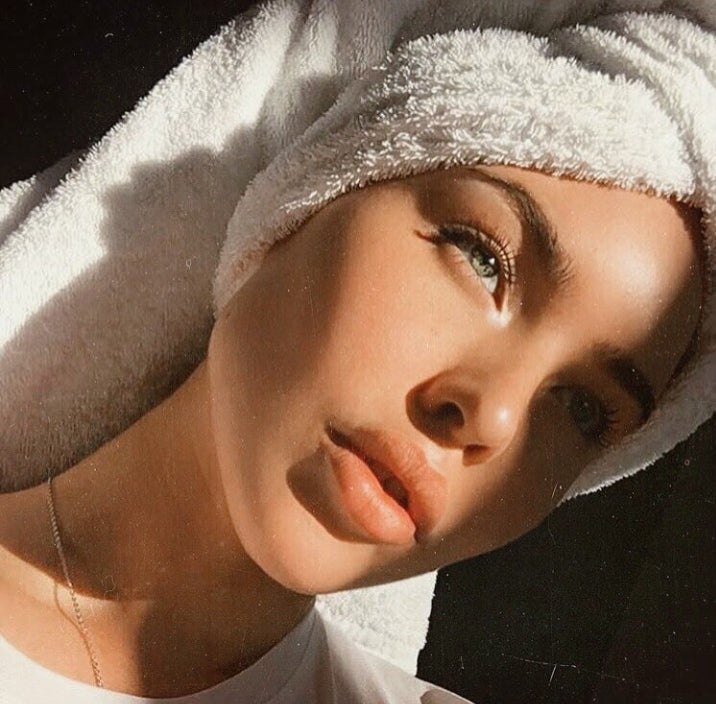 Can you tell if your skin is dehydrated or dry, or both? Learn how to tell the difference and treat lovingly.
Spring is finally upon us, and as we slowly emerge from our she shed, femme den or the cozy lady lounge where we have been hibernating, we can see that our skin has taken a winter beating. The cold months of blistering winds hitting open faces can leave it feeling dry. But we should not have to wait for summer to get our glow back. Nor should it go away in the first place. Am I right, or am I right? But, is it dry or dehydrated skin?
When it comes to dry skin, Lady Gaga's "born this way" rings true. Dry skin is a skin type — your genetic predisposition (thanks mom and dad).
On the other hand, when it comes to dehydrated skin, you are belting out a boisterous solo between verses. Dehydrated skin is a condition due mostly to your lifestyle habits (that's on you boo).
Knowing your skin type is essential. In the colder months, dehydration can pose as dry skin leaving you confused on the best treatment plan. We delved into how to tell the difference between dehydrated vs. dry skin and how to treat your skin well.
Dehydrated Skin
Cause: Skin is thirsty AF for some H20.
Symptoms: Dehydrated skin has an interesting way of showing up to the party and varies from person to person. However, the common skin symptoms are surface wrinkles around the face (under the eyes is a big one), itchiness, dull looking and uneven complexion.
For a quick test, squint in front of a mirror. Upon examination, you will more than likely see dull fine lines staring back at you.
Treatment
Dehydrated skin craves water-based ingredients, such as moisture-rich hyaluronic acid, glycerin, aloe, honey, which are great humectants that draws moisture from the air into your skin. Look out for water based serums, toners, and gel type treatments.
Dehydrated skin dwellers slap on coconut oil, thinking it'll help — unfortunately, it won't. In this case, oil is an emollient that will help seal in moisture and soften skin, but does not put moisture into your skin, which is what dehydrated skin needs.
Internally, there are many ways to tackle the root cause of dehydrated skin. Let's start with the obvious lifestyle choice, water, water, water. Drink up those eight 8-ounce glasses a day beauties!
Lastly, locking in all that moisture is key. Apply an occlusive after your hydration treatment will prevent transepidermal water loss (TEWL). Some of our faves are hemp seed, grapeseed, squalane, argan, rosehip seed oil, and shea butter.
Wyld ProTip: Alcohol, coffee, and caffeinated tea — enjoy in moderation. If you realize you drink more macchiatos than glasses of water, that's a big clue. It's all about balance.
Dry Skin
Cause
The genetic dice were rolled and granted you the skin you are in. Unlike dehydrated skin wanting water, dry skin craves oil! If you have dry skin, the number one concern is the lack of natural oil the skin naturally produces.
Symptoms
Dry skin shows up looking rough, flaky, red, itchy and irritated. But not to worry, dry skin is not an awful spell that has cursed you. Nay. Once you know your type, it's effortless to maintain that year-round moisture.
Treatment
Now that you know dry skin is a lack of oil, we can start to treat it the right way. If your skin feels tight after cleansing, you're using the wrong cleanser. Opt for a natural cleanser without essential oils, fragrance, alcohol or PEGs, that tends to strip the skin and throwing it out of balance.
Next, replenish with healthy plant-based oils that won't clog pores. Those with dry skin should generally use oils high in oleic acid. These are heavier and richer oils, and takes a longer time to absorb, and seals in moisture well. Our top picks are jojoba, avocado, olive, moringa, kalahari melon and almond oil.
Wyld ProTip: After hydrating your skin inside and out, apply an emollient and an occlusive (like butters) on top of dry skin to really seal the deal.
Gentle Exfoliation
The must-do treatment to help both thirsty and moisture seeking skin — exfoliation. This is the step to maximize either treatment above. Gentle exfoliation helps with the removal of dead skin cells that are still hanging on like Woody's arm from Toy Story 2, so that nourishing ingredients that treat your skin can penetrate into the skin. 
Exfoliating prevents cells from creating clusters on top of the surface and clogging pores. The key word here is gentle; there's no need to strip skin that is already dry and/or dehydrated, but instead, treat it with the love and care it deserves.